Men, women, black, white, asian, the old, the young, the very young, punks, hipsters, hippies,  blue collar, white collar, unemployed; they were all there.
Road bikes, BMXs, Mountain Bikes, Recumbents, Cruisers, Commuters, Tall Bikes, Rat Bikes, Fixies, Trikes, Trailers, Cargo Bikes, Row Cycles and British Restoration Classics; they were all there.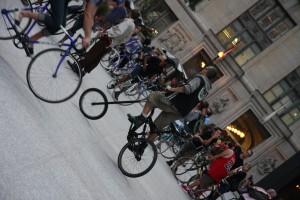 Bells, whistles, clown horns, air horns, drums, ipod speakers, ghetto blasters, car battery rigged speaker systems, the anarchic choir of 3000 cyclists and a trailer towed singer belting out anti-war tracks; they were all there.
I pedalled in this throng of wheeled activists, I too yelled out Happy Friday and I was there.
Fat Lad