* or alternatively "You've come a long way Fat Lad"
Colne Valley Mountain Bike Challenge
With a very large bowl of porridge washed down with a hot cup of tea I managed to just about leave the house on time with the car loaded up for the short journey to Golcar for my first go at the Colne Valley Mountain Bike Challenge. 30 odd miles in some of the hilliest terrain in West Yorkshire. The tagline of the event is "Are you tough enough?" well maybe… organised enough… erm maybe not. I got so lost on the way to the event navigating the back streets of Huddersfield badly. At 9:00 on the dot I got my number and hammered the cranks to the start straight. Luckily for me they were running late, always nice to start right at the back of the pack…
In thinking about the event and my recent less than stellar form I was aiming for a sub 4hr finish and in the few minutes standing round waiting for the hooter to go signalling the start of the suffering. A very very short downhill roll 90 degree'd into a steep cobbled climb; the perfect opportunity for the chain to drop off the top of the cassette and into the spokes. Marvellous. So at the back, malfunctioning bicycle and a very flustered Fat Lad remounted and cracked on.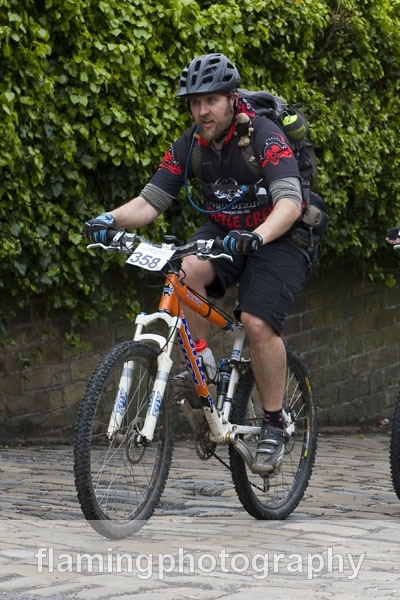 The initial tarmac climb dragged on and on the first of many seemingly eternal climbs. At the first relief of a downhill section the pack was still well and truly bunched up, backmarkers as far as the eye could see… Not especially technical I passed a good handful of riders mincing their ways to the bottom. The next climb whilst not long was another cobble run this time saturated with running water. I think even with an unobstructed run I'd have struggled with it. So for not the last time that day I was pushing Elvis towards a summit. Before remounting I ditched the base layer to climb, climb and climb some more.
And so it went, some awesome descents more than outweighed by the evil bastard sons of hateful geographical climbs. I got to mile 10 seemingly without issue and cracked on after chatting bikes with a thoroughly nice bloke about my pace. At the first feed station I grabbed a banana as one of the trailside angels refilled my first empty energy drink bottle with lemon SIS. At mile 14, pushing up a soul sucking wheel dragging grass monstrosity with neither sight of rider in front or behind I had the only moment where I could have given in. There and then halfway up a field somewhere near Huddersfield I felt the lowest I think I've ever been whilst out on the bike. Pushing on, calves screaming I "had a word" with myself and at the summit I cruised through the farm to the next feed station.
"How you feeling kid?" asked the next trailside angel. I think my weary smile said more than words and helpfully offered up "This is your last chance to turn back" the clack clack of SPDs was my only reply. I'd just clicked over 15miles and there was no way I was giving up now. A 35mph belter greeted me on farewell form the feed station but it soon turned into more beast like ascent. All I needed to do was get to mile 20…
More short ups and downs see-sawed us along. One guy I had chatted earlier with having done this ride the year previous gave me warning for the climb up from the reservoir. Those words contained many an uneasy truth and I settled in turning the cranks always at the top of the cassette yet changing the key of the cranks from low to middle where strength and spirit allowed. Weather gods had not smiled upon the day, and the fantastically and quintessentially British word of Muggy has never been more apt. Somewhere along the 3.9 mile climb it started to rain. Gentle, caressing, welcome cooling earth bound droplets. I was blessed by the constant grey sky and was truly thankful. Nearing Wessenden Head I passed a smooth body of water, the mirror surface penetrated a million times over, nature pock marking the perfect glass finish as I turned my back desperate for some respite. With a heavy heart and heavier legs I had to get off and push with the last big summit of the day.
More energy drink inhaled I had a moment of recognition, deja vu informed me of a long tarmac descent ahead and after stretching out my hamstrings for as long as I dare the lightweight lurid rain jacket clammily stuck to my rain and sweat soaked forearms.  Another high speed road descent propelled me towards the eventual goal.  A very sharp left hander onto the trail greeted me with the smell of many cooked brakes. The wide many lined downhill was reward worthy of the feet earned previous and with the terrain allowing every rock became a kicker and I whooped, laughed and launched my the whole way down. Post stream crossing I removed the fluorescent boil in the bag layer and with a very saddle sore behind remounted. Four hours was coming up and I still had over seven miles to go. Four hours was a distant dream and I was in this purely to finish now. Every climb now was an affair for Granny and I; winching my self up all but the most gentle of climbs.
The best description of body and mind coming to the last sixth of the course could have euphemistically been called survival. At mile 25 there was the last feed station, refusing simple sugars all day I wolfed down the offered Club biscuit.* The smiling face of the trail angel told me I didn't have far to go and shouted energy fuelling words of encouragement as I pedaled away.  More tarmac ingested through the knobblies fired me on and after one more sharp left it was the last off road climb of the day. My legs were gone, but I knew I could do nothing more but finish. The trail gave way to road and even that now was beyond my pedalling ability. Even the descents were now wearying.  Past the Golcar Lily pub spinning on the flat a gaggle of children dressed for wedding reception cheered me on and even mock pushed me along as I struggled on.
The last off road of the days was a narrow lane descent rutted and worn rugged with passings of generations of trail users before me. Burning brake pads cooling off post steepness the despair inducing site of another climb was all I needed to turn the air blue with the sheer volume and ferociousness of my foul language.  That was it, all but done the GPS ticked down the last few markers.
29.4 … Just
29.5 … a
29.6 … few
29.7 … pedal
29.8 … turns
29.9 … more
I saw the finish sign and rolled past the cricket club to the finishing tent. the digital clock displayed my pain numerically; 4hr 58min.  Despite the elation of finishing I couldn't help feel disappointed. I know I can be faster, I know I can be a better rider…
And then I dig through Mrs Fat Lad's pictorial history of our life together. I remember how big I've been, I understand how slow I was, and I know damn well I ain't ever going back. 4491ft of climbing in 30.15 miles, the man above would only have ever answered "aye, alright…"
Finally time for some thanks:
Pete for installing my Chris King headset Mrs Fat Lad bought for me in New York a little while ago…
Bike Shed in Scisset for whilst-I-waited shock bush replacement making the back of the bike lovely and rattle free again
TF Tuned for servicing my Fox forks making them as supple and awesome as when they were new  and of course
CVMBC for hosting the event. the money raised from the event goes to support the 39th Parkwood Scout Group and Leymoor Cricket Club, Golcar.
Fat Lad
*What my Mum would describe as a fridge biscuit.